Affiliate link disclosure: This post may contain affiliate links including Amazon that earn me a small commission, at no extra cost to you. Read more in our full Affiliate Link Disclosure.
If you're here it's likely that you've already researched or read about Copper Canyon or Barrancas del Cobre; a series of six canyons in Northwestern Mexico.
You've also probably decided you want to take one of the world's greatest train journeys on the Copper Canyon Railway (Ferrocarril de Barrancas del Cobre) or 'El Chepe' as it's known and are ready to book your El Chepe train tickets.
El Chepe Train Ticket Booking Challenges
If you're anything like we were, you've got as far as planning your trip and have now hit the stumbling block of working out how to book El Chepe train tickets and working out what the El Chepe train costs.
Despite considering ourselves well-travelled and always managing our own logistics we found this a real challenge. There's information out there, but not much, and what there is seems to give conflicting advice.
After lots of faffing about, I eventually figured it out and got everything confirmed with just a few days to spare. So to help you out and make your life easier we've decided to share how to book El Chepe train tickets.
It is possible and easy, to book El Chepe train tickets through an agency. In fact, you could arrange an entire Copper Canyon tour via an agency but this approach tends to come with a hefty price tag.
We always try to keep our costs down and book all our own travel so I've based this post on that. Here's how to independently book El Chepe train tickets for the Copper Canyon:
Copper Canyon Trip Decisions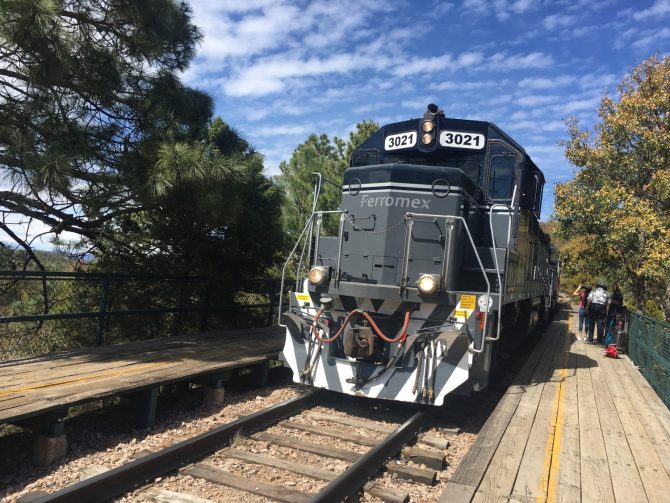 Before you can even think about actually booking your El Chepe train tickets there are three key decisions to make. Most of this information is on the El Chepe website but I've picked out the most important bits:
1. Direction of Travel
The direction in which you want to take the Copper Canyon train – Los Mochis to Chihuahua or Chihuahua to Los Mochis will depend on where your prior and onwards destinations are and the associated costs.
We were in Merida before the Copper Canyon and had plans to meet a friend in Guadalajara afterwards. This meant either direction would have worked for us, as we needed to take a flight or long bus journey at either end regardless.
We opted for Chihuahua to Los Mochis because the flights worked out cheaper.
2. Itinerary
Which stations you want to stop at, on which dates and for how long may influence which class train(s) you get. Your itinerary may also depend on what activities you want to do along the way. There are LOTS to choose from: half, full and multi-day hikes to waterfalls and into the canyon, horse-riding, mountain biking, and various sightseeing tours. The list goes on!
Which accommodation you want to stay at in the Copper Canyon may also have an impact on your plans. Although most of the year you're likely to be able to find somewhere to stay as you go, if you have your heart set on a particular hotel, it would be best to book it in advance.
3. Class of Train 
There are two classes of El Chepe train – Chepe Express and Chepe Regional. The main differences are the days of service, the stations they service, and of course the price and how you can book and buy tickets.
There's also a slight difference in the onboard facilities.
El Chepe Express
Duration – takes 9 hours.
Schedule – leaves from Creel at 7.30 am on Tuesday, Thursday and Sunday arriving in Los Mochis at 5:10 pm. In the other direction, it leaves from Los Mochis on Monday, Wednesday and Friday at 1:00 pm, arriving in Creel at 10:40 pm.
Please note that unlike Chepe Regional this train DOES NOT depart from or travel to Chihuahua.
Price – the entire journey for tourists costs 2,200 pesos (£92) or 3,100 pesos return (£129).
There are also other classes available: 'Executive' or 'Business' which is 2,700 pesos (£112) or 3,800 (£159) return and 'First Class' which is 3,600 pesos (£150) or 5,200 pesos (£216) return
Permitted stops – you may stop at all stations on the route during your journey (for a minimum of one night). Therefore, if you want to take Chepe Express for the entire journey it's very easy to plan your itinerary. 
It is also possible to book and pay for individual legs should you want to combine with some stretches on Chepe Regional or by bus, colectivo or car. 
Onboard facilities – Ulrike dining room, bar and terrace.
You ARE NOT permitted to take your own food on this train, although it's up to you if you want to risk it. We didn't see anyone else with their own food on this train.
When to book – MUST be booked in ADVANCE, you can't buy tickets on the day at any stations or on the train. 
That's the official line anyway, however, if you've had a different experience please let us know.
El Chepe Regional (Turista and Economica)
Duration – takes 16 hours.
Schedule – leaves from Chihuahua on Monday, Wednesday and Saturday at 6 am, arriving into Los Mochis at 9:30 pm. In the other direction it leaves from Los Mochis on Tuesday, Thursday and Sunday at 6 am arriving into Chihuahua at 9:34 pm.
Price – the entire journey for tourists in 'Turista' class costs 3,604 pesos (£150).
There is another class 'Economica' or 'Economy' which costs 1,891 pesos (£77) This is mainly used by locals but I believe tourists can use it too. 
Permitted stops – you may stop at three stations (including your final station) during your journey (for a minimum of one night) at no additional cost. The train actually stops at another 13 stations between the start and end stations so you'll be spoilt for choice.
Most people stop at least at Creel because it's at the start (or end) of the most scenic stretch of the canyon and at Divisadero/ Posada Barrancas for the best views.
Again it's possible to buy El Chepe train tickets for individual legs, should you want to combine with some stretches on Chepe Express or by bus or car, or if you want to stop at more stations than allowed in the main ticket. 
Onboard facilities – Dining room.
Again you ARE NOT permitted to take your own food on this train. However, I did see several people with their own food and there are vendors at some of the stations you pass through so it's up to you if you want to risk taking or buying food outside of the onboard dining room.
When to book – Turista class CAN ONLY be booked in advance or on the day from the ticket counter at either Chihuahua or Los Mochis station (in advance is recommended for tourists).
Economica class CAN ONLY be purchased from the conductor ON the train. We can personally vouch for this as we had to do this to get from our starting point of Creel to Posada Barrancas.
Here's Andy's El Chepe video from this part of the journey.
IMPORTANT:
On the El Chepe website, you can find more information on schedules and prices on Chepe Express and Chepe Regional. Be sure to double-check the schedule yourself before booking because the times and prices are not set in stone and could change. It would be great if you could let me know if you do find them to be different so I can update this post.
Which class you choose will depend mainly on your budget, itinerary and flexibility. You may decide like us, that you want to take a combination of classes to cut costs or because of the days you want to travel and where you want to stop.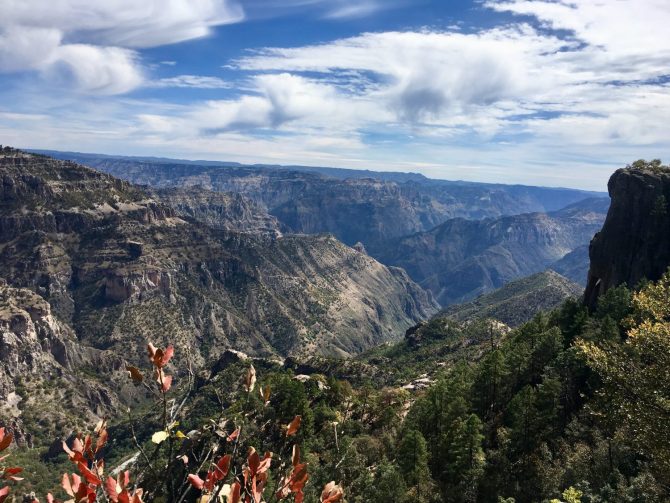 Ideally, we wanted to use Chepe Regional for the entire trip as it's cheaper and has many more stations you can choose to stop at. This didn't work with our itinerary so we decided to book Chepe Regional from Creel to Divisadero/ Posada Barrancas and then Chepe Express for the most scenic stretch from Posada Barrancas to El Fuerte. 
Don't forget there's also the option to travel by bus or colectivo. These tend to be slightly quicker and much cheaper than the train but doesn't strictly follow the railway.
We took the bus for the first stretch from Chihuahua to Creel and colectivo for the final stretch from El Fuerte to Los Mochis. We'd read these sections weren't very scenic so saving some cash won over on taking the train for these.
Car travel is also a possibility but be sure to research thoroughly, especially the safety aspect of your road trip.
Booking El Chepe Train Tickets
Once you've considered all the information and made your key decisions it's finally time to book your El Chepe train tickets. Here's where the fun starts. Despite a redesign in April 2018, the El Chepe website still doesn't offer online booking or clear instructions on how to book each class of Copper Canyon train ticket.
Upon seeing the 'Contact Us' form on the website you'd be forgiven for thinking booking would be as straightforward as sending them a message and waiting for a reply. 
Think again, I tried this and what followed was a very frustrating couple of weeks. There were multiple unanswered contact form messages and multiple unanswered phone calls; in itself a daunting prospect for someone with limited Spanish. 
Just as we were about to admit defeat and make the risky decision to just turn up at the Copper Canyon and hope we could buy tickets there (even riskier as we'd be travelling during Semana Santa), someone finally answered. It's at this point the booking process became much more straightforward and is what I'll share next.
Reminder: The below is based on booking Chepe Express or Chepe Regional Turista tickets, as these as are the only classes that can be booked in advance.
For Chepe Regional Economica you'll either need to get yourself to Chihuahua or Los Mochis before your trip to buy tickets in advance or on the day at the station ticket counter OR you can buy tickets from the conductor on the train at intermediate stations. 
How To Book Chepe Express Train Tickets
Based on our own experiences I've put together a simple step-by-step process for booking Chepe Express train tickets. This should help you avoid all the hassle, confusion and frustration we first had to go through first. 
1. Don't use the contact form on the website
Just don't…you'll be wasting your time.
2. Don't phone the number on the website
Well, you can, but be prepared for no-one to answer for ages and when they do they'll just give you the email addresses I'm about to share with you in step 3. So you may as well not bother…especially with limited or no Spanish as you'll struggle.
3. Email booking enquiry to El Chepe
When I finally spoke to someone on the phone they told me I could send an email with my booking enquiry to chepe.mochis@ferromex.mx or chepe.reservaciones@ferromex.mx. I did this and received a reply within a day from chepe.reservaciones@ferromex.mx; so I would suggest emailing them in the first instance.
4. Email conversation with El Chepe reservations 
You'll probably need email backwards and forwards a few times with the El Chepe reservations representative to finalise the details of your booking. Making your requirements as clear as possible should make the whole process quicker.
The information asked for is:
Full name and age of each person travelling

Itinerary showing clearly where and when you'll start and finish each leg of your journey

Preference of which side of the train to sit on. For the best views, I'd recommend sitting on the left if travelling from Creel and the right if travelling from Los Mochis
5. Receive reservation and payment request
Once you and the El Chepe reservations representative are clear on your booking requirements they should send you an email confirming your booking reservation quite quickly. It will also include bank details for you to make a transfer of the payment to.
If you can't make an international transfer from your bank (or it will cost too much in fees), email back and ask them to email you a credit/ debit card payment link so you can make the payment online.
6. Make the payment and email proof of payment
Make the payment via whatever method you agree on, and email proof of payment over to El Chepe reservations.
7. Receive your Express El Chepe Train tickets
You'll receive your Chepe Express tickets by email soon after El Chepe reservations have received your proof of payment.
8. Print your tickets and keep them safe
Once you've received your Chepe Express tickets, you'll need to find somewhere to print them. After that, it's just a matter of keeping them safe as you'll need them to board the train. Ours went straight in my travel money belt where I keep all my travel documents, although I'll admit I don't often actually wear it. You won't be permitted to travel without them. I'd recommend printing a couple of copies.
Recommendation: If you're hoping to travel by Chepe Regional during a public holiday like we did for Semana Santa, you may wish to reconsider and pay the extra to book Chepe Express in advance.
It's likely to be very busy and with Chepe Regional there's a risk there may not be enough room on the train(s) you want to travel on.
We struggled to get on our train from Creel to Divisadero and it wasn't much fun being pushed and shoved in amongst the crowd of locals also trying to get seats.
That's it, you should now have all the information you need to make the process of booking Express El Chepe train tickets as painless as possible; plus some useful information on Chepe Regional, if that's your preferred option).
Now you can concentrate on finalising your accommodation and activities and enjoying your trip!
One final top tip is don't forget your camera to photograph and video the most incredible, epic landscape. This really was our only regret, that we didn't have a decent camera with us.
---
For ideas on what to see and do in the Copper Canyon have a look at our 5 day Copper Canyon train ride itinerary and for more information, you can also read more about Copper Canyon here this series of six canyons in Northwestern Mexico.
Have you travelled through the Copper Canyon by El Chepe train recently? If so, have I missed anything from our process to book El Chepe train tickets?
Travel Resources for Mexico
Planning your trip to Mexico? Here are some of our recommended useful resources to help you have the best time possible:
● TRAVEL INSURANCE IS AN IMPORTANT CONSIDERATION FOR TRAVEL. If you're travelling long-term like us and from the EU, then True Traveller is our go-to option.
If you're from a non-EU country, another option for long-term travel insurance is SafetyWing, which you can pay for on a month-by-month basis. This is also good for shorter trips.
● Find amazing flight deals to Mexico on Skyscanner and Kayak.
● Compare Rental car prices in Mexico on Rentalcars.com.
● Booking.com usually have the best hotel prices in Mexico.
● Our go-to for self-catering accommodation in Mexico is Vrbo.
● Before booking accommodation in Mexico, check reviews on Tripadvisor.
● Discover fantastic trips and activities in Mexico with Viator and GetYourGuide.
● G Adventures and Intrepid Travel offer group holidays and tours to Mexico.
Enjoy this post? Pin it for later!