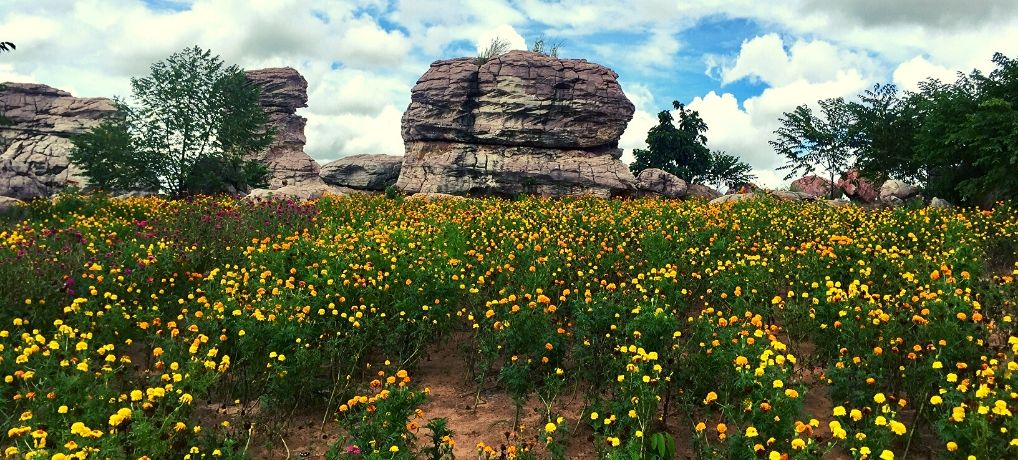 Located about 70 km to the North of Siem Reap city, at the top of a cluster of hills is Peung Tanon or Standing Stones as they're otherwise known. It's a stunning, natural geological wonder consisting of a series of huge sandstone formations dotted around the hilltop site.  
I'd never even heard of this site until another expat told me she'd visited with a local friend. This, of course, piqued my interest and I set about arranging a day trip there with friends.
Peung Tanon Standing Stones Day Trip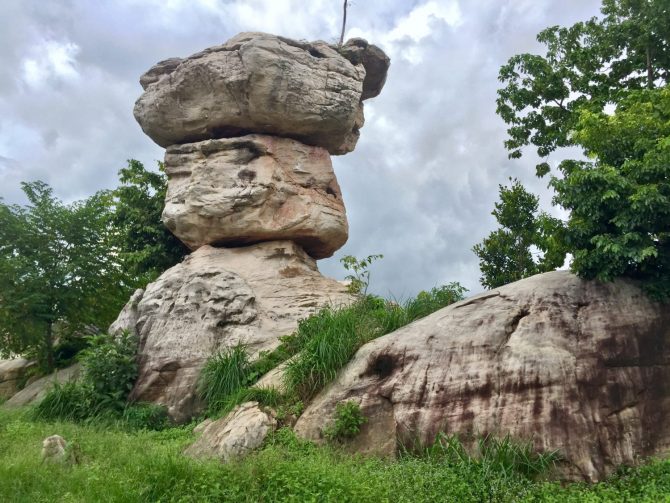 Nobody seems to know much about Peung Tanon at all. How they formed and their history remains a mystery.
When asked, a guide at the site suggested the site could once have been an ocean bed and the Khmer Rouge may have used it during the Pol Pot regime. To be honest, this sounded very much like guesswork.
When we visited Peung Tanon Standing Stones there was no entrance fee. It did, however, look as if a ticket booth was halfway through being built so I suspect it won't be free for long.
Things to Do at Peung Tanon
A visit to Peung Tanon Standing Stones can

be done

in a short day trip from Siem Reap. It takes between five and seven hours depending on how long you spend there and if you stop at all on the way there or back.
Once you arrive don't expect there to be a whole load of activities or facilities to keep you entertained…there's not

.

What you will find,

however

, are many unique,

naturally

formed geological features, set in a stunning lush, green landscape

. There are

really

only two things to do – explore the site and admire the views at your leisure.
Explore the Site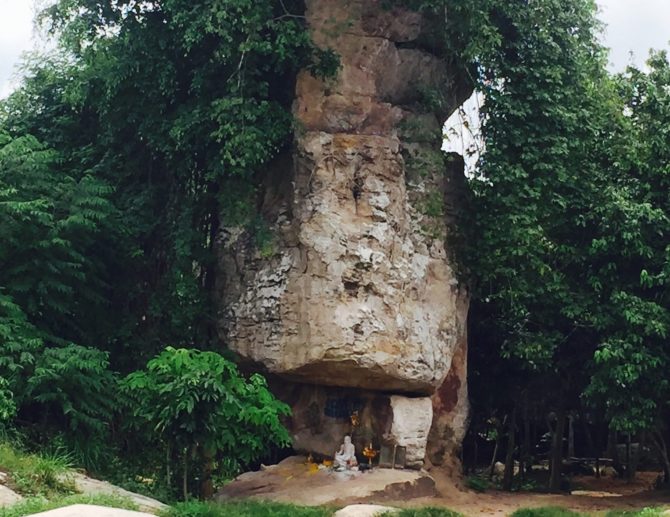 When you first arrive at the site there's a small, tree-shaded parking area for you to leave your vehicle. When we got there, a few locals and a couple of saffron-robed monks sat on wooden platforms and lazed in hammocks.
A short 10-minute easy trek uphill and through a small community is needed to reach the actual site. We passed by a few houses on stilts and some sort of shrine, before emerging out of the trees onto the hilltop.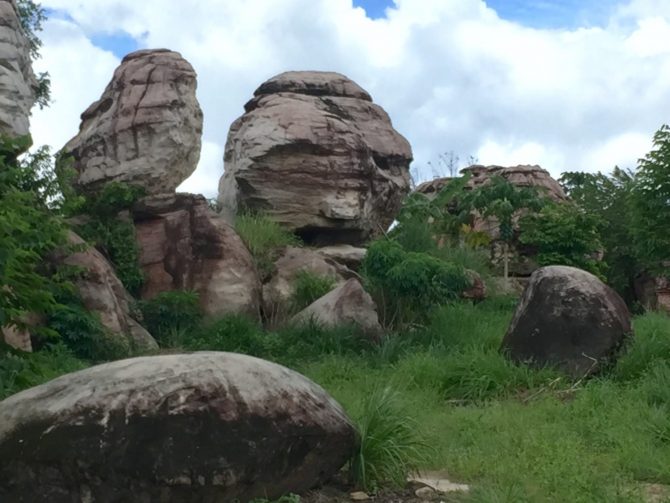 Dotted amongst carpets of colourful flowers and bright green vegetation are many sandstone formations and rocks of different shapes, sizes and colours. Some rocks appeared to be balanced on top of one another or positioned in such a way they gave the illusion of a human face or some kind of animal.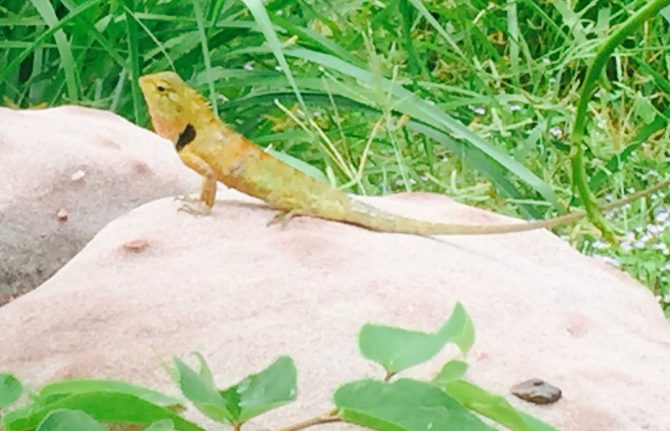 As we explored the site we were dive-bombed by low-flying dragonflies and beautiful butterflies. We also spotted a gecko and another unidentified lizard basking on the hot rocks.
Admire the Views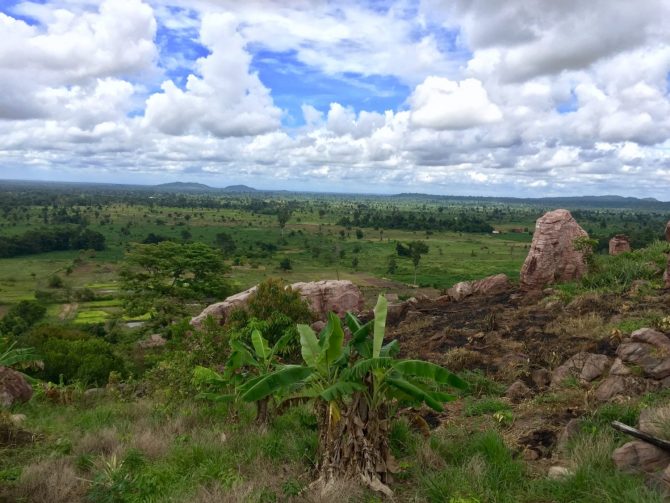 The other great thing about this site is the amazing views across stunning Cambodian countryside

.
To the left of the rocks are verdant green rice paddies, water buffaloes, swaying palms and red dirt roads

. 
Some of the rocks are climbable and give some great photo opportunities.
The best is a huge rock to the right of the site which offers a birds-eye view of the other standing stones and rural Cambodia
.
Rock Climbing and Bouldering
One other thing Peung Tanon would be perfect for is rock climbing and bouldering so if you have the shoes and equipment with you be sure to take them along.
Andy forgot his and was gutted as many of the formations offered some great climbing routes.
Eat and Drink at Pueng Tanon
There are a few dubious-looking little food shacks and stalls around the car park area of the site, but I'd recommend giving them a wide berth. The canned drinks and bottled water are probably o.k. but personally, I wouldn't risk the food.
Your best bet is to take a picnic lunch with you which you can enjoy on the flat surface of one of the rocks.
How to Get to Pueng Tanon 
Peung Tanon Standing Stones is as 'off the beaten track' as you'll get near Siem Reap, which I soon realised when I began to organise the trip. There were only a couple of listings in Google (with different spellings), and very few locals had even heard of it.
You can get to the site by van, car, tuk tuk, motorbike or bicycle.

Given the state of the roads and the length of the journey, I'd imagine going by tuk tuk or bicycle could make for a pretty uncomfortable journey

.
We hired a mini-bus as there was a group of eleven of us, you can expect to pay between $60 USD (£47) and $80 USD (£62.50) for a mini-van. 

The other good option is to go by motorcycle. You can
hire a moto dop (motorcycle-taxi)
with a driver for between $25 USD (£19.50) and $30 USD (£23.50).
The Journey

to Peung Tanon

Peung Tanon Standing Stones is in Kok Dong Village in Siem Reap province to the West of Kbal Spean and takes around two hours to get there

. The journey is quite an adventure as the roads are in a pretty dire state. They look as if someone has rolled out a strip of tarmac down the middle but forgotten the edges. They're also full of huge potholes and cracks, so

be prepared

for a bumpy ride.

The rough journey is worth it though as you also get to see some of rural Cambodia, completely different to the busy, touristy Siem Reap

.

 

The route takes you past rice paddies stretching as far as the eye can see, buffaloes cooling off in muddy water and fields full of tapioca and cassava plants

.

You also pass through several villages, with locals going about their daily life, children playing and all manner of livestock, cats, and dogs milling about

.

 

On our way back we also spotted some pigs on the back of a bike…no doubt on the way to market! Not a nice sight to behold but the namesake of Andy's YouTube Channel 

'

Going Nomad…aka Pigs on Bikes'. 

 
After trying many variations of the spelling, I managed to find some directions on Google Maps, which are in the map above.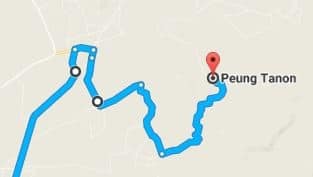 One thing to note is that our driver didn't follow this map exactly. I'm assuming this was because the roads suggested on Google Maps were too bad as you get closer to the site. I couldn't embed a map of our actual route but the screenshot above should help.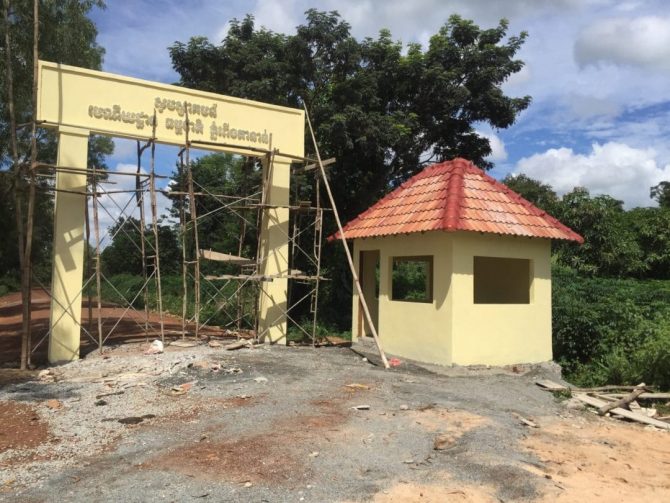 This is the ticket booth that's being built and is where you need to turn off from the main road.
---
To date, Peung Tanon Standing Stones is the only sandstone formation site of its kind discovered in Cambodia. There is a natural beauty to these fascinating natural formations in their lush setting, and the lack of tourists make it even more special. Here's Andy's vlog about Peung Tanon – Standing Stones.
If you have the time left on your Cambodia visa and the stomach for a very bumpy journey be sure to head out of Siem Reap to this very off-the-beaten-track destination before it becomes another of Cambodia's more popular tourist attractions.
Travel Resources for Cambodia
Planning your trip to Cambodia? Here are some of our recommended useful resources to help you have the best time possible:
● TRAVEL INSURANCE IS AN IMPORTANT CONSIDERATION FOR TRAVEL. If you're travelling long-term like us and from the EU, then True Traveller is our go-to option.
If you're from a non-EU country, another option for long-term travel insurance is SafetyWing, which you can pay for on a month-by-month basis. This is also good for shorter trips.
● Find amazing flight deals to Cambodia on Skyscanner and Kayak.
● Compare Rental car prices in Cambodia on Rentalcars.com.
● Booking.com usually have the best hotel prices in Cambodia.
● Our go-to for self-catering accommodation in Cambodia is Vrbo.
● Before booking accommodation in Cambodia, check reviews on Tripadvisor.
● Book buses, ferries and taxis in Cambodia with Camboticket or 12Go Asia.
● Discover fantastic trips and activities in Cambodia with Klook, Viator and GetYourGuide.
● Bookmundi, G Adventures, and  Intrepid Travel offer group holidays and tours in Cambodia.
Enjoy this post? Pin it for later!