Most people start a Nepal trip by arriving at Kathmandu airport. After going through immigration and collecting their Nepal visa, they continue to explore the buzzing capital city. But, where to go next? In direct contrast to chaotic Kathmandu, Nepal's second city, Pokhara, is laid-back, spiritually rejuvenating, and full of activities for every type of traveller. Andy and I found lots of things to do in Pokhara during our visit there with my mum and some friends.
This post contains affiliate links. If you use them to make a purchase, we may earn a small commission at no extra cost to you. As an Amazon Associate, we earn from qualifying purchases. Learn more in our Affiliate Link Disclosure.
Things to Do in Pokhara, Nepal
Getting to Pokhara city is an experience in and of itself, especially via the eight-hour roller coaster bus ride from the capital, as we did. But all that is forgotten once you set your eyes on tranquil Phewa Lake and the snow-capped Himalayas in the background. 
Pokhara is most known for being the gateway to the Annapurna Himal trekking routes, however, it is also a popular place for yoga and meditation retreats, backpacker bars, and delicious local food. Even with so much to do, no one is ever in a rush, and the Nepali smile and frequent 'Namaste' greetings make travellers feel right at home.
We spent just a week in Pokhara but could have easily stayed for longer as many do. It's a perfect stop as part of a 3-week Nepal itinerary. We still managed to do quite a lot during our time there. Here we share our 9 Top Things to Do in Pokhara and the surrounding area.
1. A Multi-Day Annapurna Hike
No trip to Pokhara is complete without trekking in the Annapurna region of the Himalayas. A stunning, remote area home to three of the world's tallest peaks. Quaint mountains villages, jaw-dropping landscapes, and friendly locals await explorers.
The jewel of the region is the 13 – 17 day Annapurna Circuit Trek – Sept to Nov is the ideal time for trekking it. The trek starts a few hours east of Pokhara, looping like a horseshoe through mountain valleys up to Thorang-La Pass, the highest point on the trek (5,416m), and then back down, ending in the village of Nayapul. It's an experience unlike any other, and even as first-time high-altitude hikers doing it without a guide, we had no problems at all.
If two weeks is too much time for you, the 7 – 10 day Annapurna Base Camp trek is a popular alternative, taking you to the foot of Annapurna I – the 10th tallest peak in the world. Or for even shorter options, the Mardi Himal and Poon Hill treks are great alternatives at 4 – 6 days.
Guides, gear, and people to trek with are all available in spades in Pokhara. If you have any questions or concerns just start a conversation with a stranger at a bar and they are bound to have just returned or are planning a trek into the Himalayas. There are also many companies that offer group Annapurna Circuit treks which you could book online in advance. 
2. Yoga Meditation Retreat
Yoga is a big deal in Pokhara. Beautiful Phewa Lake surrounded by mountains on all sides makes Pokhara an ideal ashram location. All along the north side of the Lake, away from the hustle and bustle of downtown, yoga centres dot the hillsides. All experience levels are welcome, from beginners (like us) to advanced yogis.
There are many options, but, we decided to do a 3-day program at Atmashree Yoga. It had the most flexibility and the daily structure is identical, so you can arrive and leave on any day. With it being our first yoga retreat experience we didn't know what to expect. But, we were blown away by the kindness of the yogis and the sense of community that developed with the other travellers.
The days are well organized, with two intensive yoga sessions, morning and mid-day meditations, three delicious meals and free time to make new friends and journal. All meals are vegan and no alcohol or caffeinated drinks are allowed. It truly is a cleansing of the mind and body and the perfect antidote after a long trek in the Himalayas.
Purna Yoga and Sadhana Yoga & Meditation Retreats are the two other big names in town. We heard positive reviews about both from fellow travellers, so you can't go wrong with which one you choose.
3. Eat Delicious Nepali Cuisine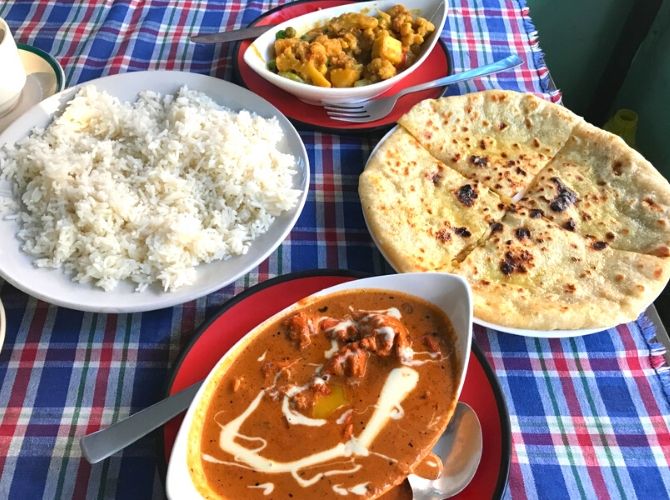 Mirroring cultural and spiritual practices, Nepali cuisine is a vibrant blend of Indian and Tibetan-Chinese influences. Full-flavoured curries (without the Indian spice), succulent dumplings, and a host of potato-based snacks you can't stop eating. These are merely an introduction to this colourful cuisine. Pokhara is full to the brim with options.
Dal Bhat is Nepal's (Unofficial) National Dish and is available at every restaurant you visit – Pokhara Thakali Kitchen has the best in town. It is a combination platter of rice, lentil soup, and curry (traditionally vegetarian), served separately and then mixed together and eaten using your hands. Of course, silverware is available for tourists – but give the hand-eating thing a try at least once.
Mo2's Delights is the spot to go for momos – the Nepali version of Chinese dumplings. They are a delicious comfort food you have to try. Try all four styles of momo's here: pan-fried, deep-fried, swimming in soup, and steamed. Located right in the heart of Lakeside Drive, you'll return here a couple of times.
But, our favourite spot in town has to be Kabab King. Don't let the name fool you, it is not a Greek-inspired souvlaki place – it is a budget-friendly, hole-in-the-wall serving up local dishes like no other. A full, hearty meal of dal bhat and aloo paratha (potato quesadilla) will definitely not break the bank. Don't miss this spot!
4. Watch an Outdoor Movie at the Movie Garden
Movie Garden is an outdoor movie theatre hidden up a bushy stone path on the north end of Lakeside. This affordable, comfy and quaint spot is one of Pokhara's best-kept secrets.
For an affordable price, you'll get a movie, fresh popcorn, a cushioned seat and blankets if need be. A full bar is also available – Nepali Gorkha beer is our go-to, as well as pizza. Service is seat-side, so you can order and find a spot while your drinks and food are brought to you.
The environment is casual, with no assigned seating. Just find some space, or make new friends and squeeze in. The staff are friendly and will help you out if you can't find a spot. There is typically one featured movie shown at 7:30 pm every night. But try to get there an hour early to enjoy the ambience and get a good seat.
The movie selection is dynamite, with a blend of classics and new hits. The night we visited the award-winning Green Book was playing. The charm and ambience are spectacular, and you are bound to make some friends while you bond over trekking, yoga, or beer.
5. Shop on Lakeside Drive
Lakeside Drive is the buzzing tourist centre of Pokhara where you can get trekking gear or any kind of souvenir that tickles your fancy. The strip starts close to the Tourist Bus Park and runs along the edge of the lake for a few kilometres.
We picked up a painting of the Annapurna Himalayas here, as well as a host of gifts for the family back home. Popular local items are pashmina scarves, yak wool hats and gloves, and singing bowls – used in certain meditation practices. While you hop in and out of shops you will undoubtedly be approached by one of the many fruit sellers, offering to juice any combination for you. It's pricey (in Nepal terms), but refreshing and is always nice to support local business.
Lakeside Drive is the perfect spot to spend a day out on the town window-shopping, and practising your Namaste.
6. Hike Up to The World Peace Pagoda
The views atop the World Peace Pagoda (aka the Shanti Stupa) are some of the best in the area. From the snow-capped Himalayas in the distance and Pokhara sprawling away from Phewa Lake. Outside of it being a great hike, the stupa is an important Buddhist monument and symbol of peace – housing relics of the Buddha. There are 80 peace pagodas worldwide – the other Nepali one is in Lumbini.
The best time to experience the stupa is at sunrise. A small village has built up around the stupa, so grab breakfast with a view and experience a meditative morning. It is free to visit but there is a donation box that we threw in a few rupees for good luck.
There are a few different ways to get to the stupa. First, you can do a panoramic walking loop from Pokhara along Phewa Lake, which takes about 2 hours each way. Or take a taxi to the foot of the hill and hike for 45 minutes. Alternatively, rent a scooter and brave the rocky road winding its way to the top.
Regardless of how you get there, this is an unmissable gem in Pokhara.
7. Go Paragliding
How I wish we had actually done this. Every day while at our yoga retreat, around 1 pm, the sky was dotted with paragliders hovering over Phewa Lake. A sight to behold.
In contrast to its hippie, laid-back reputation, Pokhara is also the adventure capital of Nepal. Paragliding is a tourist favourite. We avoided it purely because of budget restraints, but in retrospect, it wasn't all that much for an epic experience like that.
You first get a ride up to Sarangkot – one of the most popular viewpoints in the area. Then you paraglide over Phewa Lake with the Himalayas staring you down in the distance. Three paragliding companies to consider are Blue Sky Paragliding, Sunrise Paragliding, and Frontiers Paragliding. Or, if you prefer to book online GetYourGuide offer some good paragliding adventures.
Outside of paragliding, other adventure sports in the area included rafting, bungee jumping, and mountain biking.
8. Take a Boat Tour of Phewa Lake
Turn down the speed and enjoy a simple rowboat out into the calm lake – motorized boats are banned on Phewa. Take a book, and a few beers, and spend half a day relaxing in this tranquil setting. The boats themselves are traditional-looking and vibrantly colourful. It's a great photo opportunity (see above).
Hiring a boat is very cheap if you row yourself, however, there are also plenty of tour guides for a higher price. Sunrise tours are a favourite of travellers and are arguably the best way to see an infamous Pokhara sunrise. Boat rentals can be found up and down the lakeside walking trail.
9. Enjoy a Chill Night at the Waterfront Bars
If you want to kick back with a cold beer, swap trekking stories with fellow travellers, and experience Pokhara's (fairly tame) nightlife head to the north end of the lake after dark. There is a city-wide 11 pm curfew, so debauchery does not go deep into the night, yet, a good time is always available.
Phewa Lake promenade is our favourite place to begin a low-key evening, enjoying happy hour drinks with a beautiful sunset view. Freedom Cafe and Rest Point Cafe bar were our favourites. Both with strong hippie vibes and conversations that turn into debates on solving the world's social problems. If you are looking to raise the ante a little, Busy Bee Cafe is the most happening place. Home to a dancefloor and frequent live music performances, but packed with tourists – this is not a 'local spot'.
Regardless of what you are looking for in a night out, Pokhara has an option for everyone, with a chill sunset happy hour as its speciality.
Where to Stay in Pokhara
Pokhara has plenty of boutique hotels, hostels, and guesthouse options as it attracts wealthy mountaineers and budget backpackers alike. We stayed at Gaurishankar Backpackers Hostel for our first four days and really liked it. The hostel has private room options, along with dorm beds. It's run by a group of young, energetic Nepali guys and is a great place to find a trekking buddy. The food is average but cheap, and they create a fun atmosphere, celebrating all Western holidays.
Another popular budget option is Kiwi Backpackers Hostel Pokhara. It's known for its rooftop hammocks and impromptu cooking classes. We will give this place a shot next time we are in town.
After trekking the Annapurna Circuit we decided to splurge a little and book into higher-end accommodation at Trekkersinn Boutique Hotel. It had spacious rooms and nice views of the mountains, but the social atmosphere was non-existent.
BOOK POKHARA ACCOMMODATION HERE
---
Pokhara is loaded with things to do, whether you are looking for a high-octane experience or a laid-back, tranquil vacation, and we have barely scratched the surface in this post. Don't rush your time here, plan to spend at least a week, but check your visa dates because you might just want to spend a month.
Have you been to Pokhara? If so what other great things did you find to do there?
---
Planning Your Trip to Pokhara?
Planning your trip to Pokhara? Here are some of our recommended useful resources to help you have the best time possible.
Enjoy this post? Pin it for later!