Affiliate link disclosure: This post may contain affiliate links including Amazon that earn me a small commission, at no extra cost to you. Read more in our full Affiliate Link Disclosure.
When I decided to visit Vietnam one of the main things on my to-do list, as it is for most visitors, was a Ha Long Bay tour. The UNESCO World Heritage Site of Halong Bay in the Gulf of Tonkin is famous for its stunning natural beauty featuring around 1,600 rainforest topped limestone karst islands and islets. Tourism has boomed in Ha Long Bay and the nearby fishing villages have become a hub for hoards of visitors that flock to see this natural wonder. When I first started my research I wasn't aware there was an alternative – a Halong Bay Tour from Cat Ba Island, one of the best islands in Vietnam.
There are now hundreds of tour agencies in Ha Long Bay and Hanoi that offer everything from budget half or full-day trips, to booze cruises, all the way through to five-star luxury multi-day Ha Long Bay tours. There's also a large choice of vessels you could take your trip on, including amongst others: kayaks, junks, barges, yachts and cruise ships. There's something for all budgets and tastes.
The Ha Long Bay Tour Dilemma
As I researched my visit I found the plethora of options available overwhelming. Should I do a day trip, an overnight cruise, or even longer; and as a private or group tour? Which agency or boat should I choose and what standard? 
In my state of choice paralysis and after my little foray into reliving my youth tubing in Vang Vieng, Laos, I even considered doing the infamous Castaway Tour. I was most put out to discover they have an age limit of 35, but in hindsight, I couldn't have handled all that partying and it would have been too touristy for me anyway!
In addition to how touristy Ha Long Bay has become there was also the environmental impact to take into consideration. The sheer numbers of visitors and tour boats cause huge levels of pollution in this fragile environment. The rubbish and oil dumped from the boats have rendered the water so filthy only the very brave swim; foul black smoke and noise from the engines fill the air.
Untouristy Ha Long Bay Tour from Cat Ba with Cat Ba Ventures
The more I researched, the more hesitant I became and I decided to look into less touristy alternatives. It became apparent that although Ha Long Bay was the most well-known bay for its stunning limestone karst scenery, it isn't the only one. There are other bays nearby offering the same seascapes, just without the tourists. These include Lan Ha Bay and Bai Tu Long Bay which can be accessed via a Halong Bay Tour from Cat Ba, one of Vietnam's hidden gems.
My final decision was to take a tour from Cat Ba vs Halong Bay. I wasn't too hung up on seeing THE Ha Long Bay so I decided on a Cat Ba Halong Bay cruise leaving from the island instead. I chose to do a tour with Cat Ba Ventures, a Vietnamese socially responsible travel company based on Cat Ba Island. 
Lan Ha Bay, Ha Long Bay, and Bai Tu Long Bay Tour
Cat Ba Ventures provided me with a semi-complimentary two-day/ one-night tour which I've reviewed below. Read more in our full Product Review Disclosure.
Before arriving at Cat Ba Island I had several email conversations with Mr Tung as he explained to me the options and answered all my questions. I found him helpful and patient. I was torn between doing a two-day/ one-night and a three-day/ two-night Ha Long Bay tour from Cat Ba Island. Both sailed from Cat Ba to Halong Bay (an untouristy part of it) and also took in Lan Ha Bay and Bai Tu Long Bay. 
I opted for the shorter tour as there was so much else I wanted to see in Vietnam and already not enough time to do it all.
Day 1 Cruising Lan Ha Bay and Ha Long Bay
The morning of the tour arrived and I packed up ready to head to the Cat Ba Venture office for 8:30 am. I left my bag at the hotel whilst I went to get water and snacks for the boat as I'd slept a bit too late for breakfast.
A Stormy Start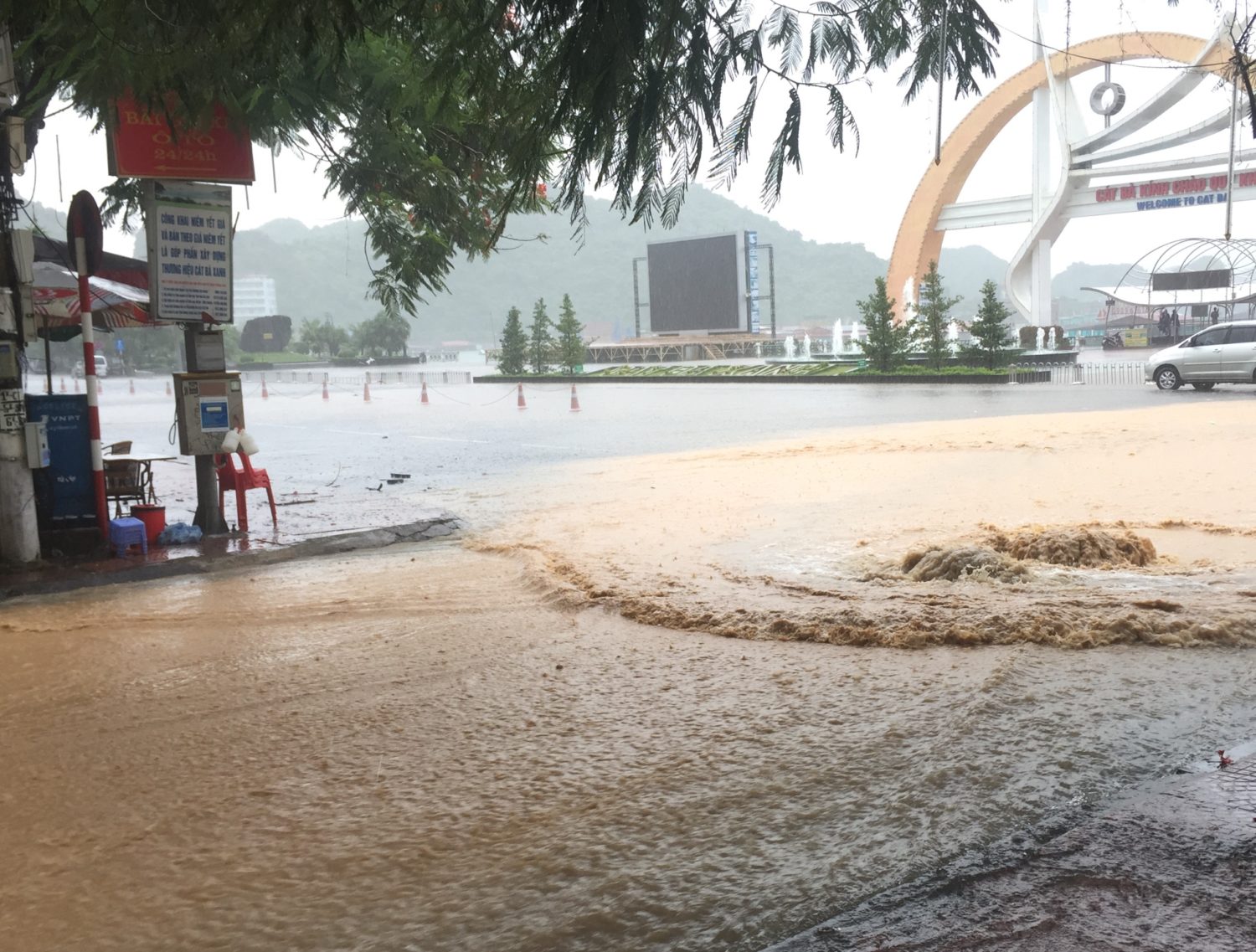 As I walked up the road the sky turned a dark, angry grey, the wind picked up and the sea turned choppy, the heavens opened and unleashed torrential rain on me. I didn't even have the chance to get my trusty poncho out, which has been a lifesaver in Cambodia during the rainy season. 
I made a dash for the next shop and took shelter under their canopy for about 10 minutes, watching the road quickly become flooded. It was getting close to the time I was supposed to be at the office, so I made a run for my hotel.
Feeling doubtful if the cruise would still take place I got the hotel reception staff to call Cat Ba Ventures for me. They said they expected the storm would be short-lived and the tour would go ahead, I was to wait until the rain eased off then walk to the office. They reassured me they wouldn't leave without me. 
It turned out the guys at Cat Ba Ventures know their weather and within half an hour the torrential rain had slowed down considerably. I waded through the raging torrent that was once the road outside my hotel and got to the office about 9:30 am.
Meeting the Tour Group
The tiny office was full of people when I arrived; I was to join two couples from the UK for the tour. Our guide for the next couple of days was a young Vietnamese guy who introduced himself to us with a big smile as Hang. 
Hang kept his eye on the weather for another half an hour or so then decided we were good to go. A five-minute mini-van shuttle later and we arrived at Ben Beo Port, from where our boat would depart. We hung out in the ports waiting room whilst Hang communicated with our boat's crew to make one final check on the weather and to tell them we were ready.
Traditional Vietnamese Style Junk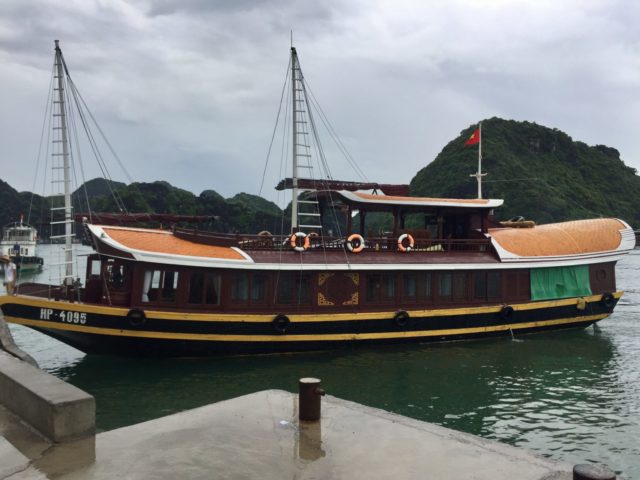 Eventually, the rain slowed to a drizzle and we made our way down to the harbour. We scanned the bay with anticipation trying to guess which boat was ours. We were pleasantly surprised when a lovely traditional, wooden Vietnamese style junk approached and Hang told us that it was ours, she was called Dai Duong. Her sails were down as there wasn't enough wind, but I could imagine she'd look great with them up!
The crew met us with smiles and outstretched hands as they helped us board. We clambered down into the junk trying not to topple overboard. The engine fired up and we cast off towards Lan Ha Bay and Halong Bay from Cat Ba, as Hang showed us to our cabins.
The cabins were so much better than I'd imagined. They were spotlessly clean with big comfy beds (two in mine), air-conditioning, fan, curtained windows, and an en-suite shower room and toilet. I'd almost go so far as to say they were borderline luxurious. After dumping our backpacks in the cabins we met Hang up on the top deck so he could brief us on the tour itinerary and housekeeping stuff. 
Cai Beo Fishing Village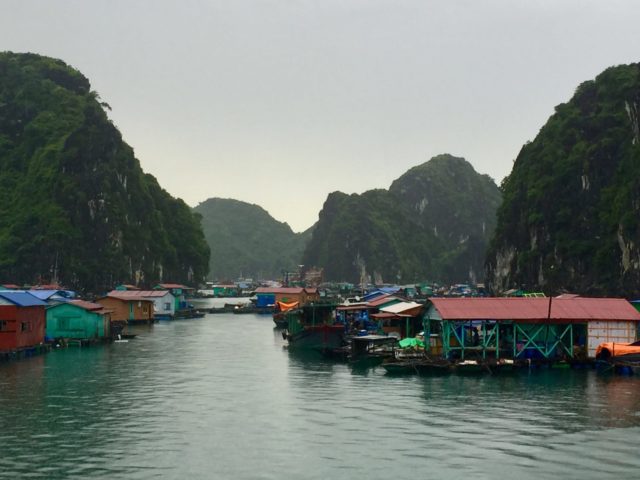 A light drizzle continued as we began our exploration of Lan Ha Bay. The second we left the port we were surrounded by the spectacular limestone karst formations. Jungle topped pillars, hills, mountains, and islets sprung out of the sea as far as the eye could see. Despite it still being very grey, damp, and slightly foggy the scenery was still amazing; in fact, the weather gave it a kind of mysterious air!
We cruised past a sprawling, floating fishing village, built in a valley with limestone islands on three sides. It was located here to protect it from the number of typhoons that batter the area each year. Hang explained it was Cai Beo Fishing Village, the largest in Vietnam. About 300 families live there and 1,000 people. They make their living through fishing, seafood farming, and tourism.
After this we passed a couple of islands; we were well out into the bay and saw hardly any other boats at all, except for the odd noisy fishing boat.
Visiting a Fish Farm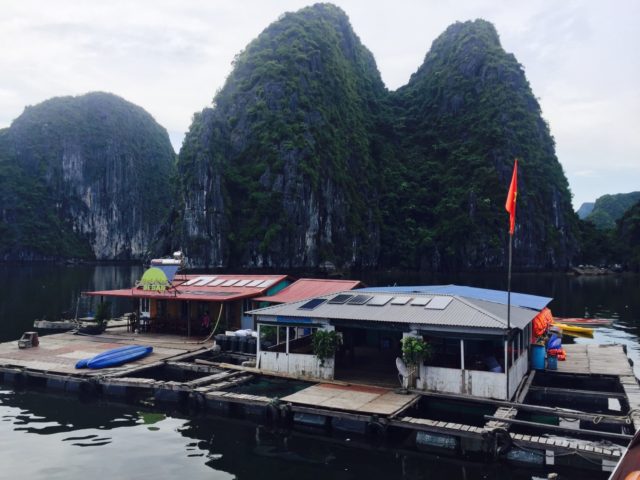 We sat up on deck and chatted for a while admiring the stunning views until it was time to visit one of the many fish farms that are dotted around. As we got closer I decided to pop to my cabin to use the toilet. A little too late I realised it wasn't the best idea I'd ever had. The junk pulled up level with a platform giving the people on it a direct view into the porthole of my bathroom. I ducked and tried to (probably unsuccessfully) finish my toilet trip without flashing anyone!
The fish farm consisted of wooden platforms on pontoons. They served as houses, shops, restaurants, and, of course, a place where the fish farmers catch and farm fish. We had a quick look round balancing precariously on thin, slippery wooden walkways.
Around the edges of the living spaces were netted off areas holding lots of fish. I can't remember the name of the first type we saw but were told they grow up to 30kg and are sold for 400,000 dong (£13.35) a kilo. There was another area that held groupers which grow even bigger and sell for 500,000 dong (£16.68) a kilo. A woman started to throw food into the fish which sent them into a frenzy!
Just before we got back on the junk Hang lifted a floorboard of the restaurant area and told us to look in. Down below was a HUGE 80kg grouper; it was 30 years old and apparently a family pet that they would never eat or sell. It would live out its days underneath the fish farm.
Kayaking Around Beaches
We continued cruising quietly around the limestone karsts and past more fishing villages. The only noises were the gentle hum of the engine, barking dogs, and quiet chatter from the fish farmers. By then the rain had completely stopped and there was just a gentle breeze making it a lovely temperature up on deck.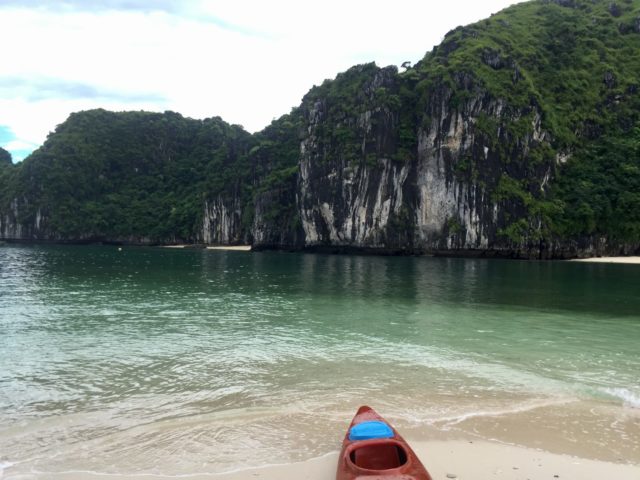 We left Lan Ha Bay and entered Halong Bay passing a little temple where fishermen pray to the water god for safety from typhoons. Soon after we stopped for a spot of kayaking and snorkelling around a few small beaches. I found getting the double kayak up on the beach and back into the water quite a struggle on my own – where was Andy when I needed him? I was keen to go snorkelling but one of the others gave it a go and said the visibility wasn't great, plus I didn't have my favourite snorkel and mask with me so I didn't bother. 
Lunchtime Feast, Swimming and Boat Jumping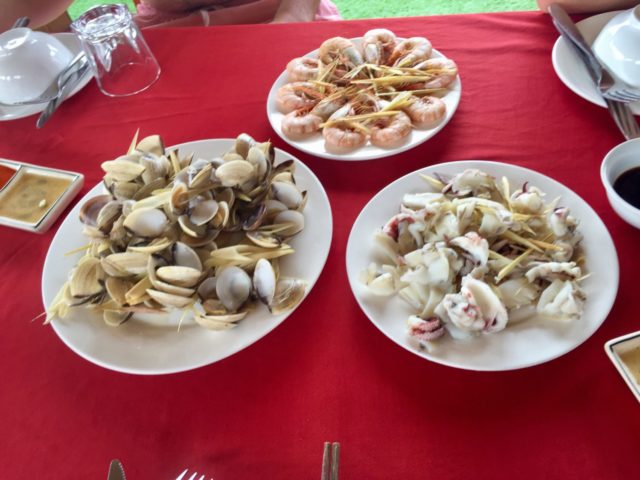 We worked up an appetite kayaking so were glad that lunch was ready by the time we'd dragged ourselves out of the kayaks and back onto the junk. And what a lunch it was…there were clams, prawns, squid, beef and vegetable stir-fries, stir-fried morning glory, and rice. Then we had dragon fruit for dessert. 
After lunch, we relaxed on deck some more whilst our food settled and watched the world go by. The waters seemed quite clean, there was the odd bit of rubbish and hint of engine oil but on the whole, it really wasn't too bad! Half an hour or so later we dropped anchor again so we could have a swim. The others took it in turns to jump off the roof of the boat but I'm not the most confident swimmer and got 'the fear' so I took the safer option and went down the steps. 
Exploring Caves and Deserted Lagoons by Kayak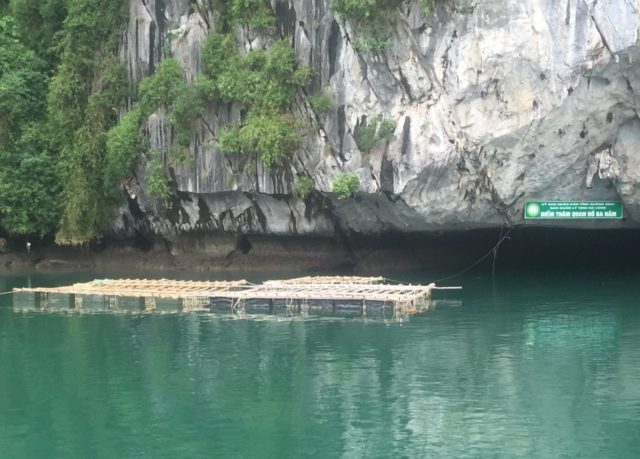 After our swim, it was back in the kayaks to explore some caves and their lagoons. I got lucky and Hang came in my kayak with me which was brilliant. He was a kayaking machine and we sped ahead of the other with little effort from me! Before we reached the first cave we passed by a big jellyfish, another fishing platform and a mussel farm consisting of mussel covered ropes dangling from a bamboo frame on a floating pontoon.
We kayaked through three different caves into deserted lagoons surrounded by jungle-covered limestone karsts! The storm of the morning was now a distant memory, the sky had cleared and the sun beat down on us as we paddled around the lagoons.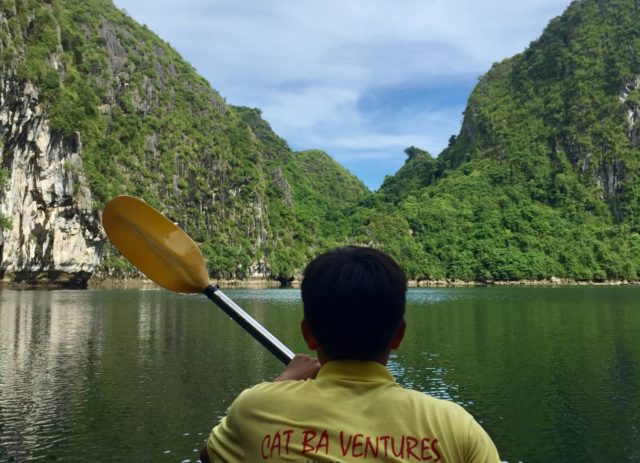 Apart from us, the lagoons were completely empty and quiet except for the noise of birds and cicadas. We stopped paddling in the middle of each lagoon to take in our surroundings, watching colourful butterflies flitting about and the occasional jumping fish.  
Back on deck I chilled out with my book and lazed in the sun whilst the others took turns to jump and dive off the boat's roof.
Dinnertime Seafood Extravaganza and Stargazing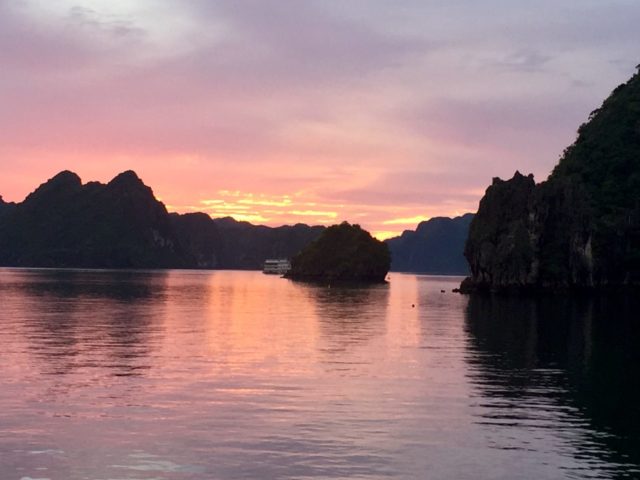 Late afternoon we sailed for a couple more hours, as the sun started to go down over the horizon we spotted several jellyfish just beneath the surface. We watched the sunset with a beer before dropping anchor in Bai Tu Long Bay for the night.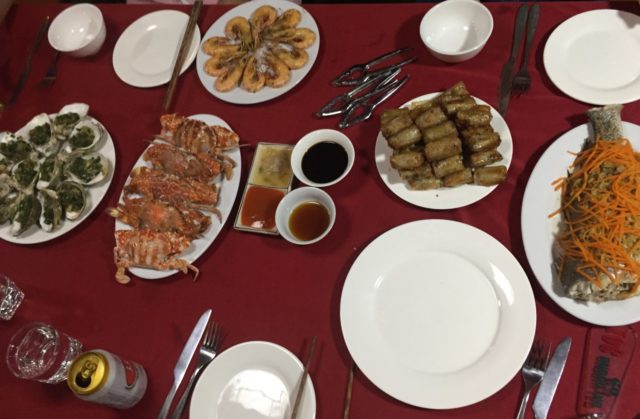 Dinner was a fantastic seafood extravaganza; we were thoroughly spoilt with oysters, crabs, seafood spring rolls, sea bass, rice, and melon for dessert. Afterwards, we all relaxed up on deck with a couple of beers chatting and stargazing. There was literally no light pollution as we were in a little bay surrounded by limestone islets so the stars were amazing.
Tired out from our kayaking and swimming we all got an early night with the hope of maybe waking up for sunrise.
Day 2 Cruising Bai Tu Long Bay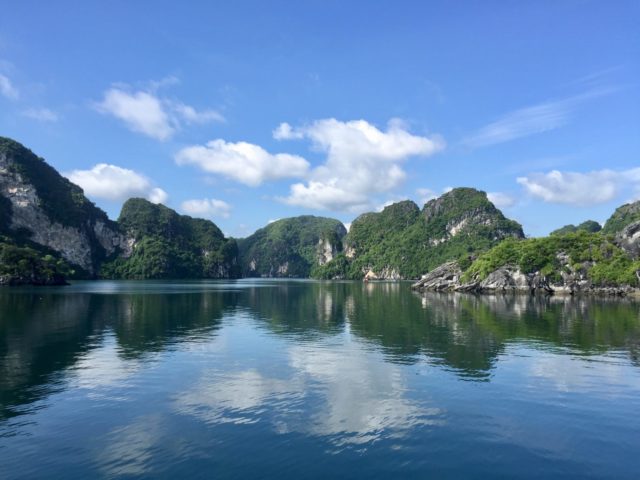 I woke up early at 5:30 am to be disappointed that I'd just missed the sunrise. Everybody else on board was still asleep so I read and lazed about for a while until they all woke up. We all went on deck for breakfast to be greeted by a beautiful, hot, sunny day, a complete contrast to the previous mornings' storm! We enjoyed a leisurely breakfast of pancakes with banana, mango and honey and coffee before starting our cruise around Bai Tu Long Bay.
More Kayaking, Caves, and Lagoons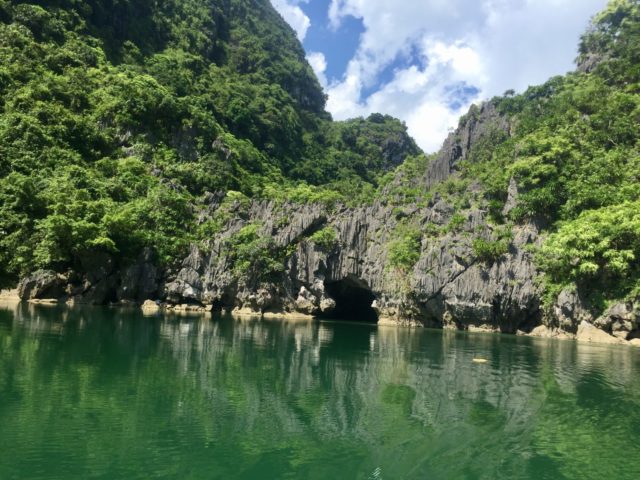 After breakfast, it was back into the kayaks for a couple of hours, again Hang was my kayak companion and we raced ahead with the others following. We kayaked through four caves: Bat Cave, Secret Cave, Tonsil Cave, and Dark Cave, each led to lagoons surrounded by jungle-clad limestone karsts.
As you'd expect Bat Cave was full of bats hanging from the roof sleeping; Secret Cave was nearly impossible to find, Tonsil Cave – well looked like tonsils and Dark Cave was 250 metres long and the ceiling was very low.
We got our first glimpse of any mammalian wildlife that morning; a couple of very big black squirrels with long tails and a macaque monkey from a distance! I wish I hadn't left the mini travel binoculars that Andy bought me for my birthday on the boat.
As we were about to leave the second lagoon some other kayakers started to arrive from day boats. It was lucky we'd made an early start as we were always in front of them so we got to each cave and lagoon first so they were always deserted for us.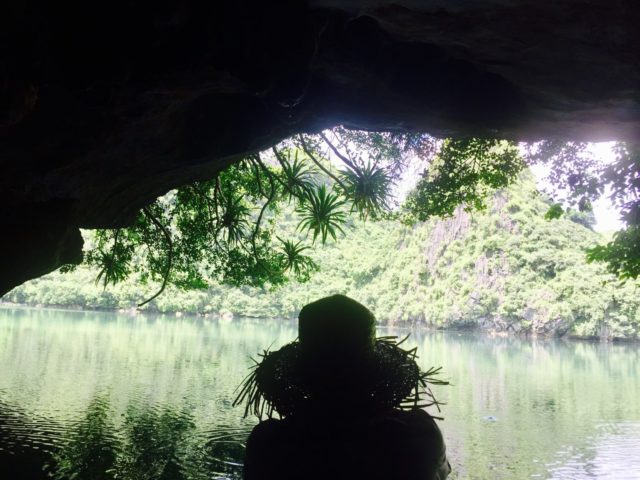 Once we came out of the long, low Dark Cave into a gorgeous sun-drenched lagoon Hang told us how you have to be very careful because at high tide the water is up to the roof so if you time it wrong you could get trapped in the lagoon for six hours until low tide. I must say I can think of worse places to be stuck.
Lunch and Ba Trai Dao Island Beaches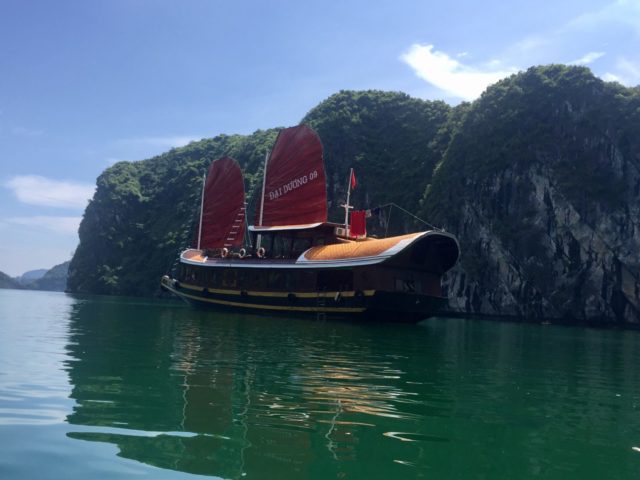 Back on the junk, which was now in her full glory with her sails up, we had a final delicious meal for lunch. This time it was little fish cakes, stir-fried squid, chicken and lemongrass, pork, stir-fried cabbage and rice, with apple for dessert. 
After lunch, we had some free time so I just sunbathed on deck with my book whilst the others jumped off the boat again and we cruised back to Lan Ha Bay. Once there we dropped anchor a short way from Ba Trai Dao Island and had some time to spend kayaking around its three picturesque sandy beaches.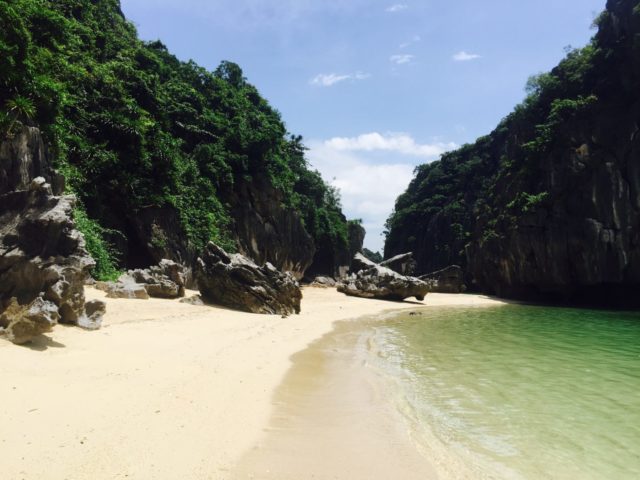 I took my book with me and spent a peaceful half–hour reading on the shore of one of the beaches, for once I actually took some time to relax! We took snorkels with us but unfortunately again there still wasn't any good snorkelling to be done so I passed on it again.
From Ba Trai Dao Island it took us another couple of hours to cruise back to Ben Beo Port where the mini-bus was waiting to take us back to town in time to catch the hydrofoil to Hai Phong for my onward journey to Tam Coc. 
Cost of a Tour with Cat Ba Ventures
The price of a Cat Ba Island Halong Bay Tour with Cat Ba Ventures differs depending on the length, the number of people in the group, the type of sailing boat used and which activities are included. It's best to contact them for a quote. The prices include a guide, transport, equipment for kayaking and snorkelling, life-jackets and dry bags, plus all food and water.
The two day/ one night Lan Ha Bay – Ha Long Bay – Bai Tu Long Bay Tour with kayaking that I did, cost $128 USD (£97). Check out their website for up-to-date prices.
Alternative Tours from Cat Ba Island
If you're looking for something different out of your Halong Bay Tour from Cat Ba Island then Get Your Guide has several great options to consider.
How to get from Hanoi to Cat Ba Island 
Good Morning Cat Ba provided me with a complimentary journey from Hanoi to Cat Ba Island which I've reviewed below. Read more in our full Product Review Disclosure.
Most people travelling to Cat Ba Island come from Hanoi and the journey consists of three stages, by road, by boat, and by road. There are several ways to get there, however, not many of these are direct and you have to arrange each part of the journey yourself.
One of the few companies that I could find that offered a direct transfer to Cat Ba Island from Hanoi was Good Morning Cat Ba. Just to be clear when I say direct, I mean the three stages all organised by the same company, not one continuous journey.
Direct Transfer from Hanoi to Cat Ba Island 
Good Morning Cat Ba (GMCB) offers an all-inclusive daily transfer package that includes pick-up from your hotel in Hanoi, bus to Hai Phong, speedboat to Cat Ba Island, and finally a bus to your hotel.
Hanoi Hotel Pickup
I got off to a slightly shaky start the morning I went from Hanoi to Cat Ba where I was due to be picked up from my hotel at 7:15 am by Good Morning Cat Ba. Somehow I managed to hit snooze on my alarm and didn't wake up again until 7:13 am, giving me exactly two minutes to finish packing and get downstairs in the lobby.
I've never dressed and packed so quickly in my life, however, to my relief it turned out that my hotel wasn't the first on the pickup list. In the end, I had fifteen or twenty minutes spare to quickly eat some breakfast before a man on a motorbike from GMCB turned up to get me. He showed me to the bus that was waiting at the end of the road as it was too big to get down the narrow roads of Hanoi Old Quarter.
Bus from Hanoi to Hai Phong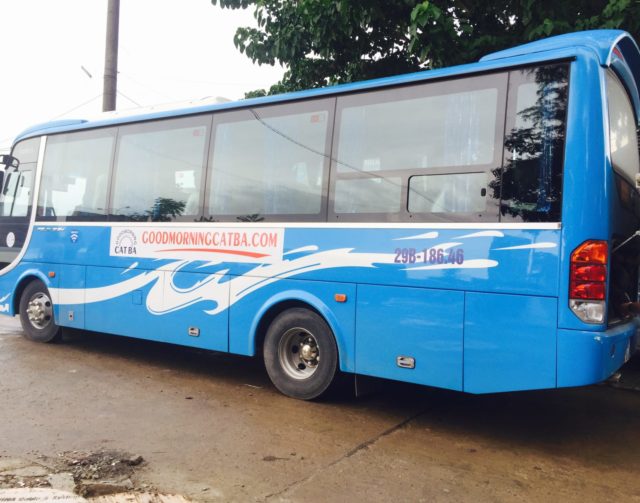 Once settled in my comfy seat on the bus I was given a bottle of water and a packet of Oreos which was a nice touch. The bus made its way through Hanoi collecting people from various hotels; the motorbike guys went ahead to organise the pickups and people to the bus. There was also air-conditioning and wifi, although I didn't use it as I made use of most of the journey to catch up on some sleep. About halfway through the journey, we stopped for a short break to give people a chance to use the toilets and buy a drink or snack.
Speedboat and Bus to Cat Ba Island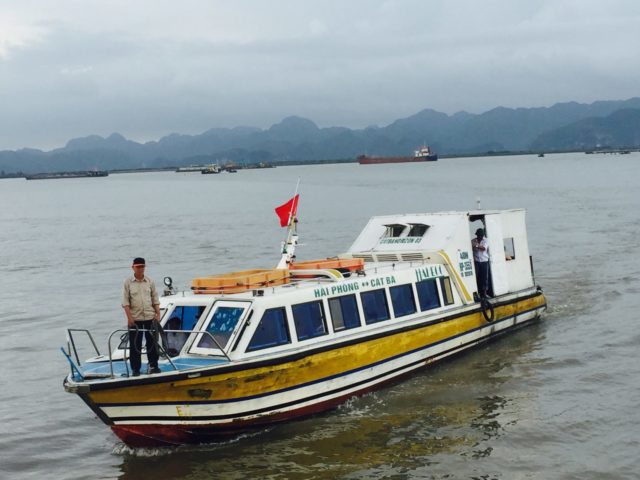 We arrived at Got Harbour at about 10:15 am and waited a short time before boarding the speedboat with our bags. There were seats inside and outside in the shade to choose from. The guide went around everyone on the boat and asked our names and which hotel we were staying at. He also gave us a map of Cat Ba Island which was really useful. Within 20 minutes we arrived on Cat Ba Island.
On arrival at Cat Ba Island, we just had a five wait for another air-conditioned bus to take us the 20 minute trip to Cat Ba Town. We were then all conveniently dropped off at or near our hotels.
The journey took about four hours in total and cost $26 USD (£19.71). It may be more expensive than arranging everything yourself but for a comfortable and stress-free journey, it's worth every cent. I think it's definitely the best way to get to Cat Ba Island from Hanoi.
Where to Stay on Cat Ba Island
I was hosted for one night on Cat Ba Island by Cat Ba Sea View Hotel. Read more in our Product Review Disclosure.
Sea View Hotel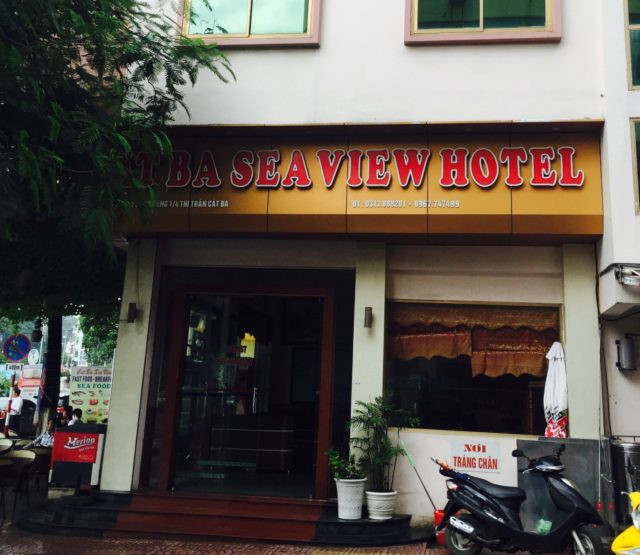 Ideally located directly opposite Cat Ba Port over-looking the sea is the aptly named Cat Ba Sea View Hotel. Its great location is also only 400 metres from Cat Co Beach and Cat Ba Market.

The staff were welcoming and more than happy to help when I asked them questions about what to do on Cat Ba island and how to get there. They also had a money exchange which was really handy as the ATM wasn't working the whole time I was on Cat Ba Island.
I had a spacious room at the front of the hotel with a shared balcony offering wonderful views of the bay. It had two comfortable queen-sized beds, air-conditioning, fan, widescreen TV, tea and coffee making facilities, mini-bar and a private shower room and toilet with free toiletries.
There's a restaurant attached to the hotel but I didn't get a chance to eat there, The menu looked good though and was comprised of a selection of Asian and Western dishes. I did try one of their Vietnamese coffees though and that was great.
Rooms are priced from $15 USD (£11.37), mine was a superior twin room and cost $24 USD (£18.19),  which was good value for money.
BOOK CAT BA SEAVIEW HOTEL HERE
---
I was really pleased I did a tour from Cat Ba Island rather than Ha Long Bay, it has the same wonderful scenery just without the tourists and pollution. Cat Ba Ventures far exceeded my expectations. The standard of the junk was great, Hang our guide was friendly, helpful and knowledgeable, and the crew were brilliant, without them it wouldn't have been possible. 
What I loved about the tour was how it focused on the more secluded areas of each bay and endeavoured to avoid the tourist crowds; which made it a really special experience. It may be slightly more expensive than some tours but in my opinion, the quality and value we got made it well worth it.
If you're wondering whether to do a tour from Cat Ba or Halong Bay I'd highly recommend choosing one with Cat Ba Ventures, starting on Cat Ba Island. 
Vietnam Travel Resources
Planning your trip to Vietnam? Here are some of our recommended useful resources to help you have the best time possible:
Have you been on a tour from Halong Bay or Cat Ba Island? If so tell us how you got on in the comments below.
Enjoy this post? Pin it for later!
Product Review Disclosure: Cat Ba Ventures provided me with a partially complementary 2-day/ 1-night tour, and Good Morning Cat Ba provided me with a complimentary transfer from Hanoi to Cat Ba Island. My one night stay was hosted by Cat Ba Sea View Hotel. This did not influence my post in any way, and as always I've provided balanced and honest reviews. Read more in our full Product Review Disclosure.