Affiliate link disclosure: This post may contain affiliate links including Amazon that earn me a small commission, at no extra cost to you. Read more in our full Affiliate Link Disclosure.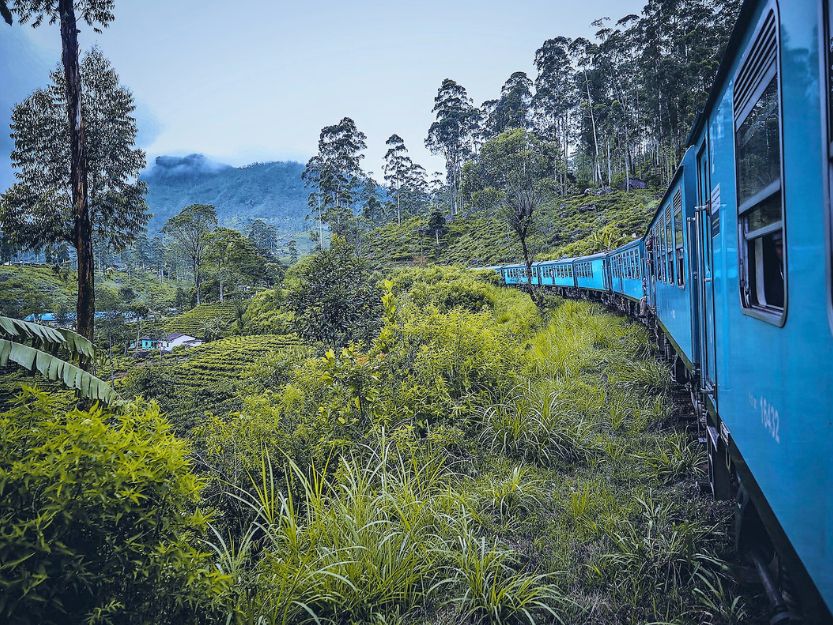 Frequently touted as the most beautiful train ride in the world, the Kandy to Ella train in Sri Lanka journeys through swathes of tropical forest, remote villages and past a plethora of tea plantations in order to reach the scenic town of Ella, nestled in the mountains.
After seeing so many dreamy photographs on Instagram, I was worried that the train ride may disappoint, as is often the case with attractions made famous through social media. However, this scenic train ride actually ended up being one of the highlights of my Sri Lanka itinerary.
In this article, I aim to tell you everything you need to know about taking the Kandy to Ella train.
What is the Kandy to Ella Train?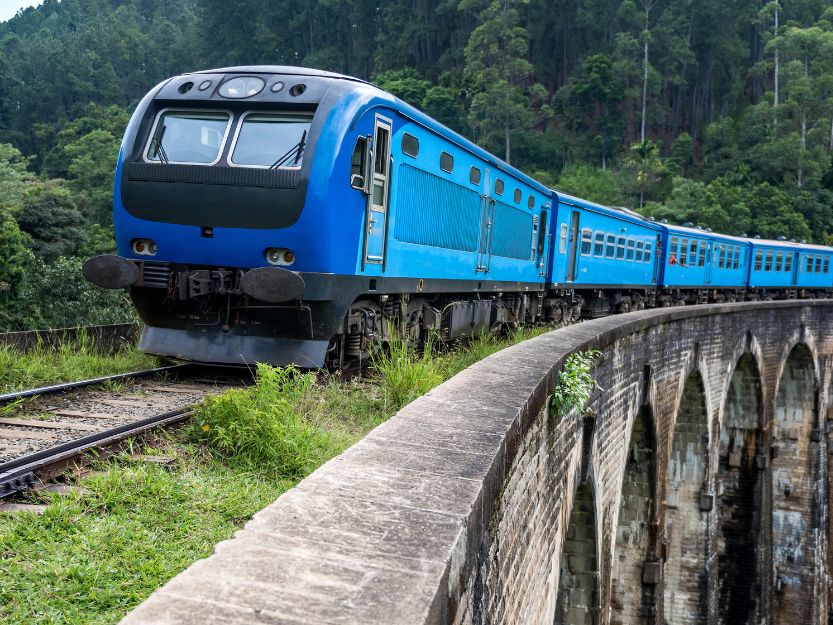 The Kandy to Ella train is a train journey, popular for the breathtaking views that you'll encounter on the way. The journey starts at Kandy Railway Station and winds through Sri Lanka's highlands until you reach the tranquil town of Ella, with numerous stops on the way.
The train's open doors and windows allow a gentle and fresh breeze to carry through the train; perfect for getting uninterrupted views of the incredible landscape.
The train is typically a playful bright blue colour but, depending on the departure time of your journey, you may be greeted with a more rustic orange train.
How Long is the Train Ride from Kandy to Ella?
The Kandy to Ella train ride is typically between 6 and 7 hours in length. However, delays are a common occurrence so you can expect the journey to take longer.
My train journey was delayed by one hour due to bad weather, which made it an 8-hour journey. But it wasn't much of an inconvenience as it simply meant I had more time to admire the views.
Which Class on the Kandy to Ella Train is Best?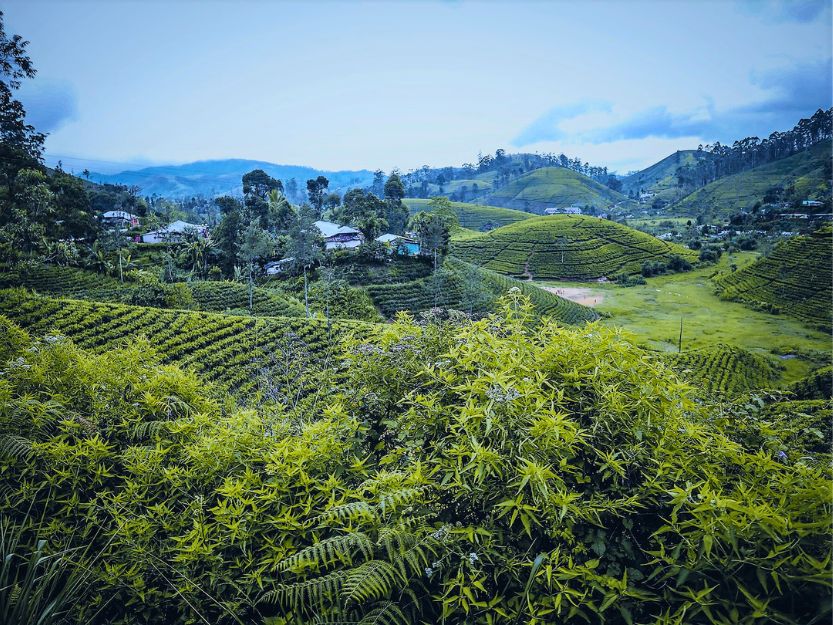 There are a number of different classes on the train: first class, second class and third class. Which is best ultimately comes down to preferences.
First class is the only class to have closed windows and air conditioning. If comfort is your main priority, then this will perhaps be the best spot for you.
If you're like me, however, and would rather have the breeze blowing through your hair and an open window out of which to take photographs, then second class will be best. This class is the best compromise between comfort and experience. With open windows and doors, you will have a more authentic experience but still have the opportunity to reserve seats and not feel overcrowded.
Third class is for those who love adventure. You can't reserve seats in this class and the seats are not as comfortable as the other classes – they are more like benches. This class is most popular with locals and their cargo (which includes chickens) and there's a high likelihood that seats will already be taken. Third class provides the most authentic experience.
Choosing the perfect class is just the first step in getting the best spot on the Kandy to Ella train. You also have to consider which side of the train to sit on. When journeying from Kandy to Ella, sitting on the right-hand side of the train by far provides the best views.
I was pretty lucky when I reserved my train tickets as I didn't choose which side of the train I'd be on. Thankfully I was allocated seats on the right side and was gifted with the most inspiring views of the scenery!
How Do I Book Train Tickets from Kandy to Ella?
There are two ways to book your Kandy to Ella train tickets, either at the station on the day or in advance online.
When booking on the day it's worth noting that you cannot reserve seats so a seat on the train (as opposed to standing) isn't guaranteed. The main benefit of booking on the day, however, is the pricing. You can purchase tickets for as much as a tenth of the price of booking online.
You can book your tickets in advance online on a number of different websites. When you book online you will be allocated reserved seats. You can only book first and second-class tickets online. The reserved tickets you book online actually mean you will be in a 'reserved' carriage, a completely different carriage from all ticket-holders who bought on the day. The reserved carriages are near the front of the train.
Kandy to Ella Train Tips
Below are some of my tips to help you get the best experience on your Kandy to Ella train trip.
1. Sit on the Right Side of the Train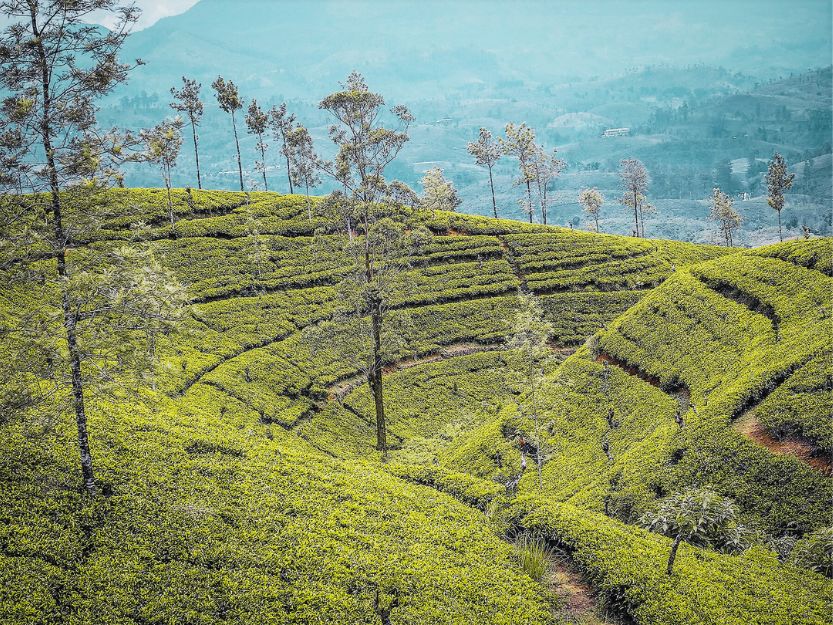 When journeying from Kandy to Ella, you will want to sit on the right-hand side of the train. This side by far has the best views. Those on the left-hand side of the train saw high grassy banks for a good chunk of the journey whereas I saw rice paddies, numerous small villages, tea plantations, cloud forests and more.
The train empties quite substantially at Nuwara Eliya station. This is very handy as it's now time to move to the left-hand side of the train which will suddenly have the best vistas! You'll be able to spot waterfalls and look down into deep valleys which are dotted with colourful buildings and tea plantations.
2. Bring Plenty of Food
There's no denying it, this is a long train journey! And the train never stops for long enough for you to leave the train to buy yourself a meal. Therefore I'd strongly recommend bringing lunch and snacks with you on the train.
Purchase some food items from a supermarket ideally the day before your journey as you don't want to rush around shopping before the morning train.
3. Take the Morning Train
The train operates several times per day. I'd strongly recommend taking the morning 8:47 am train which is estimated to arrive in Ella at 3.15 pm. This allows you to take in the most beautiful views of the countryside and also allows time for delays.
When my train finally arrived in Ella the sun was starting to set! Had I taken a later train, the darkness would have had an impact on my enjoyment of the journey.
4. Arrive at Kandy Station at Least 30 Minutes Early
I've read some advice online which says that arriving early before your train isn't necessary as the train is often delayed.
I'd personally aim to arrive at the station at least 30 minutes before your journey, especially if you are buying tickets on the day. The traffic in Kandy can get busy so you don't want to be rushing around at the last minute, scrambling to reach the station.
My train was actually on time when arriving in Kandy, so I was grateful I hadn't left my arrival till the last minute.
5. Be Safe When Hanging Out of the Open Doorway
One of the most popular features of the Kandy to Ella train is the open doorways. It seems everyone wants to get that instagram-worthy shot hanging out the open door!
Although images online make the doorways look quiet, they are actually quite busy and you may find yourself waiting a long time until you have the chance to peep out of the doorway yourself.
My main piece of advice with the doorway is to be safe. The train does pass through tunnels at times so you must make sure you are safely tucked inside for moments like this, and also just before the train reaches a platform.
Due to the increasing popularity of the doorways, you may find there is a staff member on duty who is monitoring the safety of the doorway and also ensuring everyone gets a turn – I had this experience. However, this isn't guaranteed.
6. Be Prepared for Delays
The Kandy to Ella train is often in no hurry. It trundles along the track at a relaxing pace and sometimes likes to pause for no apparent reason. This is just the nature of the train. Plan for and embrace delays.
Therefore I wouldn't recommend arranging an afternoon activity in Ella or a scheduled pick-up at a particular time.
7. Bring Cash for Street Food Snacks
At each station, street vendors will hop on the train and wander down the aisles, offering a plethora of mouth-watering snacks, from fruit to spiced nuts and other goodies. These vendors only take cash so if you are looking to try some of these yummy snacks, you'll need to have some cash on you.
8. Consider Breaking Up the Journey
At each station, street vendors will hop on the train and wander down the aisles, offering a plethora of mouth-watering snacks, from fruit to spiced nuts and other goodies. These vendors only take cash so if you are looking to try some of these yummy snacks, you'll need to have some cash on you.
---
The Kandy to Ella train ride is a must-do for anyone travelling around Sri Lanka. The views you will encounter are pretty much guaranteed to blow you away, and you will end up in one of my favourite locations in Sri Lanka – beautiful Ella town.
Have you taken the Kandy to Ella train before? If so do you have any extra tips?
Travel Resources for Sri Lanka
Planning your trip to Sri Lanka? Here are some of our recommended useful resources to help you have the best time possible:
● TRAVEL INSURANCE IS AN IMPORTANT CONSIDERATION FOR TRAVEL. If you're travelling long-term like us and from the EU, then True Traveller is our go-to option.
If you're from a non-EU country, another option for long-term travel insurance is SafetyWing, which you can pay for on a month-by-month basis. This is also good for shorter trips.
● Find amazing flight deals to Sri Lanka on Skyscanner and Kayak.
● Compare Rental car prices in Sri Lanka on Rentalcars.com.
● Booking.com usually have the best hotel prices in Sri Lanka.
● Our go-to for self-catering accommodation in Sri Lanka is Vrbo.
● Before booking accommodation in Sri Lanka, check reviews on Tripadvisor.
● Book buses, ferries and taxis in Sri Lanka with Camboticket or 12Go Asia.
● Discover fantastic trips and activities in Sri Lanka with Klook, Viator and GetYourGuide.
● G Adventures and Intrepid Travel offer group holidays and tours to Sri Lanka.
Enjoy this post? Pin it for later!